Rosés are making a huge comeback around the world. These wines are made from red grapes and happen when a winemaker minimises contact with red grape skins to impart a pink hue to the wine.
SWEET, DRY, OR SOMEWHERE IN BETWEEN...
Rosé can be soft, flavourful and fairly sweet, ranging from medium dry to medium sweet. White Zinfandel from California is the quintessential Blush wine. These wines are usually made with low alcohol and medium sweetness and medium acidity to keep the wine soft in the mouth and appeal a wide range of palates.
Dry Rosés on the other hand are more serious wines that range from very dry to off-dry and are supported by a firmer structure than the Blush wines. These wines have a strong backbone of acidity or a small amount of tannin to impart firmness to the wine. The best have good concentration of aromatics. This is a diverse group of wines varying considerably in intensity, weight and flavour.
WHERE TO FIND ROSÉ
Rosé wines are produced in almost every region that also produces red wine. Blush wines are a New World phenomenon and almost all of them come from California where warm temperatures allow the grape to ripen fully. More Serious Dry Rosé can be found in most of the classic European regions. They are an important wine of Provence, but in most other French regions (Loire, Bordeaux, Burgundy) they play second fiddle to reds. Abruzzo, Bardolino and the Salento area of Puglia are Italian Rosé producing regions. Spain produces Rosé in Navarra, Rioja and Catalonia. Portugal produces Rosé from most regions. In the new world California, Australia, New Zealand , South Africa, Chile and Argentina all produce some good dry Rosés.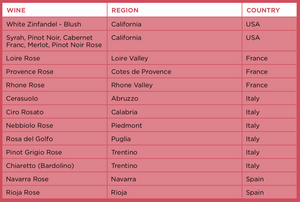 FEATURED
Taste an exemplary Provencçal Rosé with experiened winemaker and advisor Lynnette Hudson.
Cháteau Terrebonne Côtes du Provence 2020
"A classic example of why Provence have set the world on fire for this style of Rosé! Just the perfect Rosé..." - Lynnette Hudson.
Pale and clear pink colour. Intense, very grenache type with notes of peach and tomato tail. Subtle and greedy aromas of peach and fresh fruit.
Cinsault, Grenache, Syrah grapes. 13.5% abv. Côtes du Provence, France.