Rich Oaky white wines are full bodied, concentrated and generally have low to medium acidity and high alcohol. They are almost always made in contact with oak either during fermentation and / or afterwards through ageing in oak casks. This oak contact is very significant as it gives additional flavour dimensions to the wine, as well as adding complexity.
Expect these wines to have a creamy mouth feel with luscious flavours of butter and honey combined with melon, pear and tropical fruits such as nectarines and pineapple. Add to this vanilla, toast and nutty flavours contributed by the oak and you have rich, full bodied wines of real character and often with great complexity.
They are an excellent choice for rich foods and are hugely popular with wine drinkers from all parts of the world.
IS OAK BETTER?
There's a lot of debate in the wine world about whether oaked or unoaked wines are better. In regards to Chardonnay for example, some people prefer the fruity, fresh flavors of unoaked, while others find that oaked has more complex flavor profiles. So, which is better? It really depends on your personal preference. 
'Oaked' chardonnay is a rich, full-bodied wine with a complex flavor profile. It is often described as having a "buttery" or "creamy" texture, due to the influence of oak during the winemaking process. An oaked chardonnay is when the wine is stored in oak barrels after the fermentation process. Oak barrels add both flavor and structure to wine. The tannins in oak help to round out the wine, while the oak itself imparts a subtle flavor. Chardonnay is a particularly good candidate for barrel aging, as it can handle the strong flavors that come from oak.
Barrel aging chardonnay can take anywhere from a few months to a few years. The longer the chardonnay ages in oak, the more pronounced the flavors will be. If you're looking to add some complexity to your chardonnay, barrel aging is a great option.
But unoaked chardonnay can be just as delicious – and sometimes even more so. If you're looking for a chardonnay that is light, fresh, and crisp, then an unoaked variety is definitely worth trying. One of the great things about unoaked chardonnay is that it allows the true flavor of the grapes to shine through.
The common flavours found in an oaked chardonnay
WHERE TO FIND RICH, OAKY WHITES
While this style lacks diversity in grape varietal, it certainty doesn't lack diversity in region. Just about every wine growing country in the world grows Chardonnay, and produces wine in this style. Fairly warm climates favour the rich, oaky style because they tend to produce very ripe grapes that are inherently rich and can handle the oak treatment. Look mainly to California, Australia, Burgundy, Bordeaux, Southern France, Tuscany, Chile, Argentina, Washington, Oregon and of course New Zealand.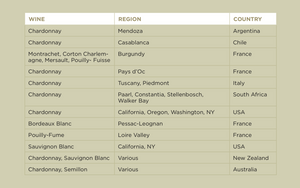 FEATURED
A chunky Chardonnay with smooth, buttery, toasty oak. The Freakshow Chardonnay from the USA is "stella drinking"!
Freakshow Chardonnay 2020
CALIFORNIA, USA.
A crisp and fruit forward style Chardonnay, this wine is smooth, easy drinking and oh-so-satisfying. Light straw in color, her alluring aromas of juicy mango, pear and honeydew melon accentuate mouthwatering flavors of nectarine, freshly cut apple and crème brûlée.
The grapes are sourced from the Phillips family's vineyard in Lodi (USA) and are certified sustainable, making this Chardonnay the perfect addition to your table. With over 150 years of family farming, the Michael David name has become more than just a winery - their roots run deep in Lodi as they've been farming this soil since the 1860's and cultivating wine grapes since the early 20th century.